EVENTS
Birthdays & Celebrations
Whether just a dinner for two or a big birthday bash for all your friends we would love you to celebrate with us. We can do private events of up to 30 pax in our private rooms, you could book out the sunroom and the pool for brunch, or for something bigger book out the Villa for parties with 100 persons or more.
Weddings & Engagements
Weddings and Engagements at Vintage Emporium Thao Dien are unique and personalized. If you would like your closest friends and family to experience something different please ask us how we can help. We can cater from between 10 to 100 people in our Villa. Come and walk the aisle through our green archway!
DESTINATIONS
THE MAIN RESIDENCE
THE SUN ROOM
THE POOL
PRIVATE DINING ROOM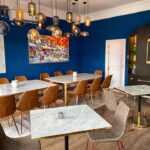 EVENTS
DESTINATIONS
OUR SPACE
EVENTS
BIRTHDAY
"Hey party enthusiasts! 🎉🌴 Looking for the perfect venue to host your next unforgettable celebration? 🎉 🥳Look no further than Beach House! Immerse yourself in tropical vibes, breathtaking views, and create unforgettable memories. 🌴🏖️ Our dedicated team will ensure every detail is taken care of. Book your party now and let the celebration begin!🌅🍹🎈🥂 Contact us today!