About us
Our first place in Da Kao opened in 2014 when we were inspired to bring a little bit of Sydney's café lifestyle to Saigon. It was truly Vintage with all of the furniture either pre-owned or made from reclaimed wood, and the décor picked up from Saigon's many op-shops selling pre-loved treasures. A café focused on great food and drinks using quality ingredients which when possible we source here in Vietnam.
Our second place opened in Thao Dien in 2018 in one of the many garden villas in this area. Beautifully decorated, still using Vintage designed furniture from designers such as Scandinavian Hans Wegner we continue to improve on our art and love of serving great wholesome tasty food and drinks, and trying to bring a little bit of Sydney's great internationally inspired food, relaxing culture and ambience to Saigon.
We hope to see you at one of our places soon.
The Vintage Emporium  Da Kao, District. 01
95B Nguyen Van Thu, Da Kao.
The Vintage Emporium Cafe Dakao is our first love and little more fun and quirky than her more elegant little sister in Thao Dien. Collectables decorate the place, picked up on our various travels around Vietnam, Asia and our second home of Sydney.
Our focus as always is on great food and drinks with a mind to wholesome healthy food, available all day, a little Sydney Cafe nestled in the Hem's of Saigon's streets.
The Vintage Emporium  Thao Dien, District. 02
No. 01 Street 39, Thao Dien.
Housed in a beautifully restored Villa in leafy back suburban streets of sits The Vintage Emporium Thao Dien. Our Sydney styled Cafe has a different ambiance whatever your mood may be with views into the lush gardens from the lounge, pool side outdoors or at the sunroom or if you feel like a splash of color our upstairs blue room and terrace.
For our menu we really only have one focus; Sydney café inspired, great tasting and wholesome food and drinks using quality ingredients, sourced locally when we can! Have a browse through our menu and we are sure something will catch your eye!
Come and visit us for a meal, a coffee or meeting, or a mid afternoon or evening drink!
Beachouse City Garden by The Vintage, Binh Thanh District
59 Ngo Tat To, Ward 21
A contempory beach house restaurant & bar with a balanced mix of Sydney café inspired, great tasting, wholesome food and Vietnamese favourites.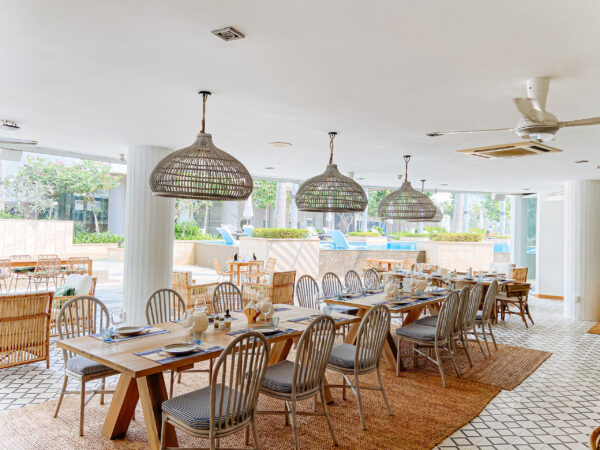 Coastal Saigon 
53 Vo Truong Toan, Thao Dien
Contemporary COASTAL cuisine, healthy , creative in a Morden and refreshing light ready to be discovered. COASTAL celebrates freshness, the best of seafoods, meats, and techniques, ready to reflect the creativity, dedication and passion of our chefs. We prioritise quality of your food above all with a menu that aims to inspire, time and time again.
The journey is divided into experiences, each offering its own discovery and our interpretation of the Coast.
OUR PROMOTIONS
"𝑭𝒓𝒐𝒎 𝑩𝒓𝒖𝒏𝒄𝒉 𝒕𝒐 𝑫𝒊𝒏𝒏𝒆𝒓, 𝑻𝒂𝒔𝒕𝒆 𝒕𝒉𝒆 𝑽𝒊𝒏𝒕𝒂𝒈𝒆 𝑫𝒊𝒇𝒇𝒆𝒓𝒆𝒏𝒄𝒆"
Beat the summer heat and immerse yourself in the tranquil yet lively atmosphere of The Vintage Emporium Thảo Điền. Indulge in our delectable cuisine and refreshing beverages while you unwind, work, or socialize in Thảo Điền's ultimate destination.
Let's give you a sneak peek at some of the mouthwatering highlights from our current Monthly Specials menu:
MISO GLAZED SEABASS 250++
Accompanied by bok choy, spring onion, and button mushrooms, this flavorful dish features succulent seabass glazed with miso.
250.000++
SLOW-COOKED BEEF BRISKET 290++
Tender and juicy beef brisket served with a rich bacon thyme beef jus, crispy shallots, and creamy mashed potatoes.
290.000++
Each special dish also includes a complimentary watermelon juice, soft drink, or coffee.
Join us at The Vintage Emporium Thảo Điền and explore our Monthly Specials menu, designed to surprise and delight your taste buds. Don't miss out on the opportunity to savor these extraordinary dishes that will elevate your dining experience to new heights!
*Available ONLY from Monday to Friday"